LABOR:One employee at Young Fast Optoelectronics said a Chinese employee told her they were there to 'support' in 'basic tasks,' not for professional training
By Vincent Y. Chao and Shelley Huang / Staff Reporters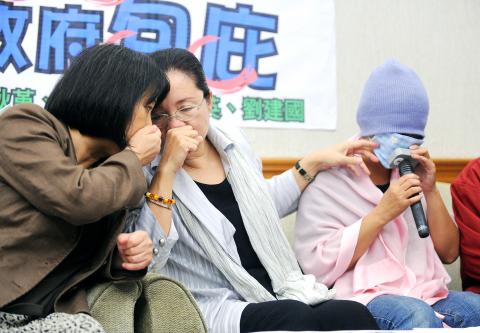 Democratic Progressive Party legislators Huang Sue-ying, left, and Tien Chiu-chin, center, join workers and labor union officers from Young Fast Optoelectronics Co, Ltd at a press conference in Taipei yesterday. The union alleges that the company is illegally employing workers from China under the guise of training. Photo: Lo Pei-der, Taipei Times
Employees of Young Fast Optoelectronics Co, Ltd (洋華光電) and a labor union spoke out against the electronics company yesterday, alleging the company had been illegally employing Chinese workers under the guise of professional training.
Allegations surfaced in the Chinese-language Next Magazine earlier this month that Young Fast, a key supplier of touch-screen components for HTC Corp and Samsung Electronics, had sent groups of 20 employees from its factories in China to work 12-hour shifts at a manufacturing center in Taoyuan County.
Chinese nationals are currently barred from working in Taiwan.
Union representatives told a press conference yesterday that despite a recent National Immigration Agency (NIA) investigation, the practice is still continuing and has grown even more prevalent, -directly impacting Taiwanese jobs.
A woman who claimed to be a current employee at Young Fast who wished to remain anonymous said the Chinese workers told her they were not in Taiwan for training. "They said no," the employee said. "They said they were here to support us in doing more basic tasks."
Another woman who said she was a current employee added that Young Fast frequently gave some of its overtime positions to the Chinese workers, who would receive lower pay. She said the Chinese workers received about NT$9,000 a month compared with about NT$18,000 for female and NT$19,500 for male employees at the factory.
"It's very clear that [the company] allowed them to come to Taiwan and compete with us local workers," she said.
The company has rejected the allegations, saying in a statement earlier this month that the Chinese workers were in Taiwan only for additional training. The program followed procedures set out by government agencies, the statement said.
An investigation by the NIA on Oct. 7 could not verify the allegations and cleared the company of any wrongdoing. In a statement -released afterwards, it said it did not find the Chinese workers engaging in any unlawful behavior.
However, Democratic Progressive Party (DPP) lawmakers, speaking at the same press conference, said that the investigation was inconclusive because it took place after media reports first broke the story. The company could have temporarily cleaned up its act, DPP Legislator Huang Sue-ying (黃淑英) said.
According to figures released by the NIA, 180,000 applications by Chinese businesspeople and professionals to visit Taiwan were -approved last year, up from 90,000 the previous year. As of August, more than 160,000 such applications had been approved with the total number expected to top 200,000 by the end of this year, said Son Yu-lian (孫友聯), secretary--general of the Taiwan Labour Front.
While the Act Governing Relations Between the Peoples of the Taiwan Area and the Mainland Area (臺灣地區與大陸地區人民關係條例) forbids Chinese citizens from working in Taiwan, companies that fulfill certain criteria are allowed to apply in advance for teams of employees to visit Taiwan for professional development.
Visits are limited to four months per year and the participants are prohibited from engaging in "normal working behavior."
"The government's opening up the country to 'business professionals' from China for professional development is the [President Ma Ying-jeou (馬英九)] administration's way of opening up the country to workers from China," DPP Legislator Tien Chiu-chin (田秋堇) said.
Labor activists said that despite election promises that the -government would not allow Chinese workers into the country, what has happened at Young Fast and allegedly at other electronics makers proves that the promises have not been fulfilled. They said that the president, Premier Wu Den-yih (吳敦義) and Council of Labor Affairs (CLA) Minister Jennifer Wang (王如玄) must take political responsibility.
In response, the CLA said it would step up efforts to make labor inspections and to promptly issue fines of up to NT$1 million (US$30,000) to businesses that illegally hire workers from China.