DECEITFUL FIGURESThe disgruntled former workers claim that JAL's move to replace Taiwanese flight attendants with Japanese was an act of discrimination Staff Reporter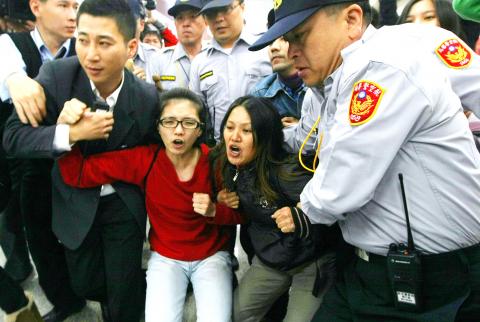 Former employees of Japan Airlines Corp protest outside Taipei International Airport (Songshan) in Taipei City yesterday as direct flights to Tokyo International Airport began after a 31-year hiatus. PHOTO: CNA
Dozens of former employees of Japan Airlines Corp (JAL) yesterday held a protest at Taipei International Airport (Songshan) accusing the company of illegally laying off 70 Taiwanese flight attendants.
Holding the protest to coincide with the launch of direct flights between Songshan and Tokyo International Airport (Haneda) after a 31-year hiatus, dozens of former JAL employees and labor activists gathered outside the airport, holding banners and shouting: "JAL's illegal layoffs bullying Taiwanese employees."
At one point, the protesters stormed past a police line and shouted words of protest, attracting the attention of passersby.
Former JAL employees have been protesting in recent weeks against the airline's layoff in July of Taiwanese JAL union members and senior employees that were close to retirement.
Two months ago, JAL announced a restructuring plans that included a 30 percent cut in its global workforce and additional financing to keep it flying after filing for bankruptcy protection in January.
The protesters said that while JAL had cited financial difficulties as the reason behind the move, laid off employees claimed the real reason for the company's action was intentional discrimination against Taiwanese and women, since female Taiwanese flight attendants were replaced by Japanese.
As some of the senior flight attendants that were laid off were originally scheduled to retire from the airline within a year, the former employees alleged they were laid off because the company did not want to pay their pensions.
A former JAL flight attendant surnamed Lin (林), who had worked at the company for about 20 years, said the company's claims that she was laid off because it was in financial troubles was a deception.
"The company's financial statements show they still made a good profit as of June," Lin said.
"The direct flights between Songshan and Haneda will expand their business, so it doesn't make sense for the airline to cut back," she said, adding that if the -company really needed to cut costs related to salary, JAL would not have hired Japanese to replace Taiwanese.
Mao Chen-fei (毛振飛), convener of the Solidarity Union of Labor Confederations and chairman of the Taoyuan County Confederation of Trade Unions, accused the airline of "profiting off Taiwanese, while stepping on their dignity."
He urged the Council of Labor Affairs to step in and resolve the dispute.
In response, Jerry Liu (劉傳名), director of the council's Department of Labor Relations, said the council had sent official letters strongly urging the company to cooperate with the Taipei City Government's Labor Bureau to resolve the labor-management dispute, adding that the council would follow up on the matter.